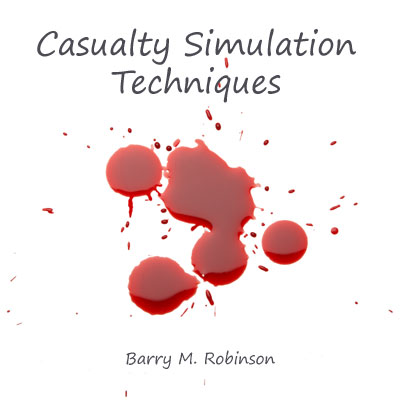 Casualty Simulation
Casualty simulation is the creation of simulated casualties for use in military and civilian medical training scenarios. It was developed during the Second World War to train civil defence workers.
Casualty simulation is a type of healthcare simulation that is used primarily in prehospital training. Over the past few years, many of the techniques used in clinical medical simulation have been adopted by casualty simulation as hardware, such as patient simulators, have become more robust and portable.
Sometimes casualty simulation is referred to as moulage. The word moulage comes from the French language meaning to shape or mold. Moulage usually refers to three-dimensional makeup like prosthetics. Casualty simulation is much more than mere makeup; it is the entire process of designing and creating the scenario, building a realistic environment, applying the makeup, coaching the casualties and debriefing the participants after the scenario or exercise.
Casualty Simulation Techniques
You can get my casualty simulation techniques guide (61 pages, PDF format, about 4.34mb, updated August 2016) free-of-charge under the Creative Commons Attribution-No Derivative Works 3.0 Unported License
Click on button below to download the latest edition of the guide updated August 2016.
Download my
Casualty Simulation Techniques Guide
for free
Medical/Casualty Simulation Kit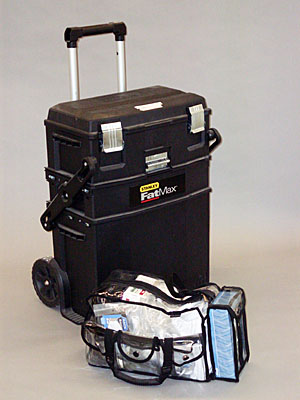 One of the questions people often ask is what should they put in their casualty simulation kit or where can they purchase a ready made kit. I've looked at a number of commercially available kits and I have been disappointed with the quality, the price and the instructions which are included. Below I describe my own kit and offer a kit list so you can assemble your own.
The photo to the left shows my own special makeup effects (casualty simulation kit). The primary effects kit is in the Stanley FatMax® 4-in-1 Mobile Work Station and my setup kit is in the clear set bag in the front. I highly recommend the FatMax® since it is reasonably priced, has plenty of space, has large wheels, is rugged and quickly opens out for access to the contents. You can easily carry spray products and refill items in the large base of this work station. Unless you have several different makeup kits like I do, you most likely won't need a separate set bag. If you really feel you need a set bag you can purchase one here. A set bag is used by makeup artists to carry items when working as a day checker on a movie set.
You can download my Excel spreadsheet for a complete casualty simulation makeup kit. Many items in this kit can be used in medical simulation with manikins and with standardized patients. Once the spreadsheet is opened you can enter any number of kits and it will automatically determine the number of items you need. You can enter the price per item and the spreadsheet will give you a total price. Descriptions of individual items include the manufacturer, catalog or item number if applicable and in some cases a link to the item. Click here to download the Casualty Simulation Kit Spreadsheet. There is a companion PDF for the spreadsheet available here which has the directions and notes concerning the spreadsheet. Please note that I do not sell casualty simulation kits or supplies and I do not have any ties to any of the manufacturers. I have listed the items that I have found, in my experience, to work well. You may subsitute items that you find more comfortable using.
Casualty Simulation Course
I teach a two day course in Casualty Simulation from time to time. If you are a candidate in one of my courses you can download the pre-course notes here and the Casualty Simulation Techniques Guide using the link on this page. I've posted one of my PowerPoint modules as a PDF (including notes) as an example for anyone interested in the casualty simulation course. Download Casualty simulation - Basic Colour Theory and Blending. This PDF has both the original PowerPoint slides and the notes which accompany the slides. The notes are in the second half of the PDF. Update: October29, 2015 I've posted some simulation practice sheets you can download Casualty Simulation Practice sheets. Use my Casualty Simulation Guide as a reference for these practice sheets.
Copyright © by Barry M. Robinson, Toronto, Ontario, Canada | Privacy Policy