About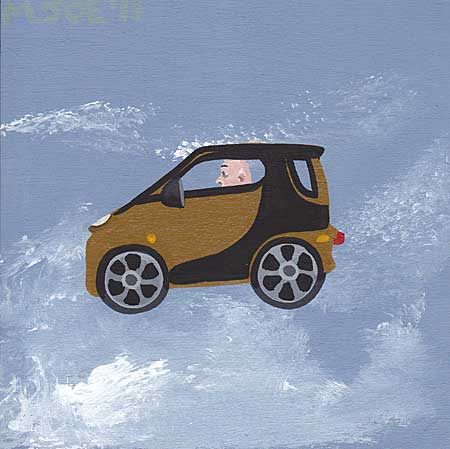 Painting © 2011 by Mendelson Joe. Used here with permission.
I began doing casualty simulation while employed as a medic in the Canadian Forces Health Services, Royal Canadian Medical Service (RCMS), reserve component. Like most medics I was trained at the Canadian Forces Medical Services School (CFMSS) at CFB Borden, near Barrie, Ontario. Back at my unit in Toronto some of my work involved creating realistic casualty simulations for training medical personnel. Initially I took a course in casualty simulation offered by Health Canada but found the techniques that were taught didn't work as well as I would have liked. In the search for greater realism and more robust applications, I taught myself how to sculpt, cast and apply prosthetics made from latex, gelatin and silicone. Over the past few years I have been developing a Casualty Simulation Course to teach my simulation techniques to others.
I hold a Bachelor's degree in Photographic Arts from Ryerson and certificates in Business Management and Computer Programming. Working as a commercial photographer in Toronto has given me valuable experience in lighting and prop construction. In addition, I have studied motion picture production at UCLA, computer science at University of Toronto and pre-press at George Brown College. My work background includes graphic design (both digital and traditional paste-up) and airbrush illustration. I have also worked as a background performer in the motion picture industry in Toronto.
Medics in the Canadian Forces work in both prehospital and clinical environments caring for our soldiers. We have to be prepared to work under harsh conditions as needed. An example of the type of conditions I work under is shown in the photos below, taken on an exercise in early march. In clinical work I have done part one medicals, in prehospital I have often provided medical coverage for field exercises and ranges. Although medics in the field have some autonomy, in clinical setting we usually work as part of a team and under the immediate direction of a medical officer, nursing officer or physician's assistant.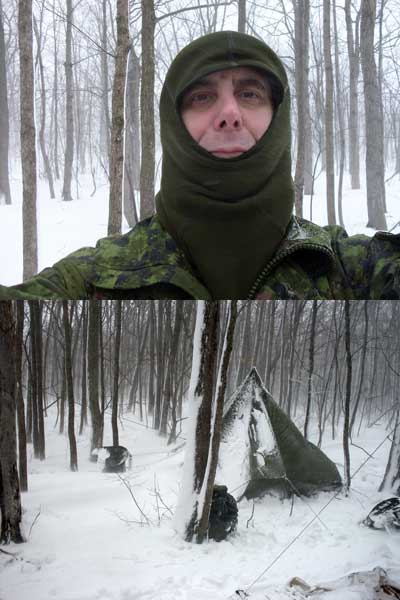 (top) A selfie taken during a military exercise in early March
at LFCATC Meaford (bottom) The tent where I lived with four
other soldiers. Inside, the tent is crowded so we leave most of our
kit outside. The dark green things near the trees are our rucksacks.
I retired from the RCMS (25 Field Ambulance) in April 2015 and am in the process of joining the CIC (Cadet Instructors Cadre) with the 48th Highlander Cadets. Until the process is complete I am working as a civilian volunteer with the cadets; my official designation is assistant training officer. I teach the cadets basic map and compass skills, and I am putting together a training schedule which involves first aid training and practice using simulation. I am still parading out of Moss Park Armoury in Toronto, just with a different group.
In the civilian world, I work at George Brown College as a simulation technologist at the Centre for Health Sciences, Sally Horsfall Eaton School of Nursing. This new campus is located on the Toronto waterfront. My primary duties here are to maintain the simulation facility and run scenarios in our high-fidelity simulation area. Our mannequin inventory includes Laerdal SimMan 3G, SimMom, SimJunior, SimBaby, and a Gaumard Premie Hal. The simulation area has an advanced AV system installed by Noldus. In addition to our high-fidelity area which includes four simulation suites, we have an operating theatre, the e-home (a bachelor apartment with a kitchen designed for training personal support workers), five 12 bed hospital wards, a vitals lab, and several debriefing rooms and classrooms.
I am a member of SimGHOSTS (Healthcare Simulation Technology Specialists), SIM-one, the Ontario Simulation Network, and the Society for Simulation in Healthcare. My primary interests are in developing hybrid simulation techniques using standardized patients and low cost microprocessor hardware/software for data logging and session recording. This involves designing both digital and analog hardware and writing the software to make everything work together, often over wireless networks. I program in both C++ and Java, depending upon the platform and application. This website was hand programmed by me in XHTML 1.0 Strict and is is valid with current standards. My background in commercial photography has given me the tools I use to create realistic, immersive simulations. In addition I am refining my use of silicone and other materials to make more realistic prosthetic appliances, including silicone self-sticks for use in simulation. I stay current with developments in makeup and the motion picture industry, adapting new materials and methods for use in medical simulation; for one example of this, see my Non-staining Blood tip at SIM-one.
Copyright © by Barry M. Robinson, Toronto, Ontario, Canada | Privacy Policy